Decades after priest sex abuse, survivor seeks to right his biggest regrets

By Sara K. Satullo
lehighvalleylive.com
May 23, 2016
http://www.lehighvalleylive.com/bethlehem/index.ssf/2016/05/priest_sex_abuse_survivor_find.html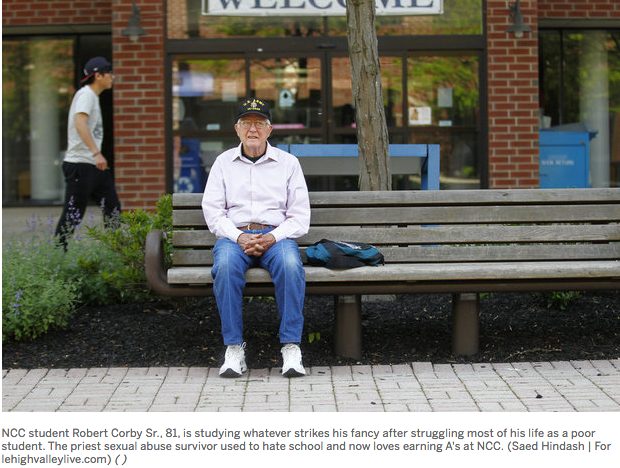 Robert Corby was a terrible student as a boy.
Corby, 81, of Bethlehem, disrupted class frequently and the nuns at his Catholic school did not mince words when evaluating his character.
"I was often told I wasn't worth anything, I was a bad kid," Corby recalls.
But what the nuns didn't know is that Corby, an altar boy at Sts. Simon and Jude Catholic Church in West Bethlehem had been sexually abused by a priest in 1947. His self-esteem was rock bottom and he was acting out in hopes of attracting attention.
Corby did manage to graduated from Central Catholic High School after being held back twice. But he did not have the grades or drive to follow his friends to college.
And it was one of his life's great regrets.
Six years ago, Corby finally decided to confront his sexual abuse and began therapy. His therapist told him it wasn't too late to go back to school.
Corby was terrified when he enrolled at Northampton Community College for his first class.
"It took many years of encouragement to overcome my fears that no one would accept me," Corby said.
Now, he is four years in to his college career. He takes advantage of NCC's tuition and fee waiver for Northampton County and Bethlehem school district senior citizens. If seats are free in a credit class, those over 65 are welcome to enroll.
He enjoys classes in subjects that interest him -- philosophy, world geography -- and skipping ones that don't, like accounting.
"I think the professors like to see me in class," Corby said. "I always thank the class for accepting me. I learn from them and hopefully they learn from me."
But he's also found his voice.
"I have opportunities to speak up for victim's of sexual abuse," Corbey said. "I was 11-years-old when I was sexually abused. If I can even help one other victim to know I can understand their pain and suffering, I consider that a success."
Corby was drafted shortly after high school and spent time serving in Japan. He spent 40 years working as an electrician, married and raised three kids, who he's very proud of.
But he never mentioned the abuse of his childhood to anyone, not even his wife, who died 20 years ago. He regrets she never knew why he struggled with intimacy. He comforts himself knowing she told him he was a good husband on her deathbed.
When the Boston Globe began publishing its series of articles on the cover-up of sexual abuse in the Catholic Church it changed Corby's life.
"With the Boston Globe articles, I finally thought: there is more than me," Corby said. "You think that you're the only one that's been abused."
The reporters' Pulitzer Prize-winning efforts were chronicled in the Academy Award-winning movie "Spotlight." Earlier this year, Corby attended a screening of the film at Lehigh University, which included a Q&A with Lehigh alum Marty Baron, who was the Boston Globe Editor that guided the Spotlight team's reporting.
He shocked himself by standing up at the screening and telling how the Globe coverage in 2002 inspired him to speak about the abuse, seek out therapy and later tell his three children and grandchildren about it.
Rev. Gerald J. Royer only spent six months at Sts. Simon and Jude but the damage he did to Corby has lasted his entire lifetime, he said.
"I live with it every day," Corby said.
The Diocese of Allentown did not directly respond to the specific allegations against Royer but did say in a statement:
"The Church has a sincere and compassionate commitment to the emotional and spiritual well-being of all individuals who have been affected by the crime of child sexual abuse."
Corby had mixed feelings when he discovered Royer listed on the Philadelphia Archdiocese's list of accused priests. Royer was placed on a leave of absence in 1960, served as chaplain at St. Joseph Manor until 1964 and left active ministry in 1964.
Corby never spoke up, so he knew the "accused" meant there was at least one other victim. He was happy to see Royer was defrocked in February 1965. The Archdiocese of Philadelphia has paid for his therapy, Corby said.
Therapy that has helped him achieve one of his life's greatest successes at a time many of his peers are slowing down.
"For me, walking across the campus, going to school, it is just a good feeling," Corby said. "I'm so at ease going to school. When I was in grade school, they considered me a loser."
Corby's surprised himself by earning A's in his classes and an award for his submission to the campus literary magazine, The Laconic.
"What a difference from going to Catholic school and then going to Northampton Community College," Corby said. "They treat me so wonderful and I love it. I just love going to school at my age."
He pays his grandkids for their good grades and is quite proud to have put two of his three kids through college. One works for the Pennsylvania Department of Environmental Protection and another for the F.B.I.
He sometimes wishes he could rewind time and go back to when he had three young children filling his house. He fills his retirement with classes, volunteer work at Sacred Heart Hospital and spending time with his female companion of 18 years.
"Believe it or not I still go to church. I don't go for the Church," Corby said. "I go for the guy that's nailed on the cross. I go for Jesus and that's about it."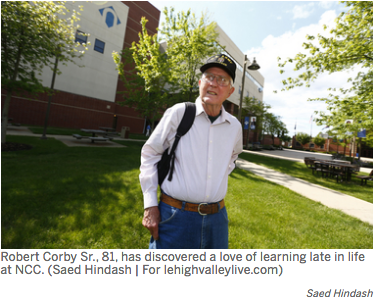 Sara K. Satullo may be reached at ssatullo@lehighvalleylive.com.com. Follow her on Twitter @sarasatullo. Find lehighvalleylive.com on Facebook.