Rev. Lawrence C. Murphy
Ordained: 1950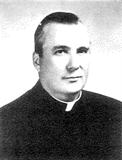 Start
Stop
Assignment
Town/Accusations
State
Position
Notes

1950

Milwaukee bishop was Moses Elias Kiley(1940-April 1953), followed by Albert Gregory Meyer (July 1953-Sept. 1958), then William Edward Cousins (Dec. 1958-Sept. 1977)

1974
St. John's School for the Deaf

St. Francis

• Murphy admitted to molesting at least thirty, and may have sexually abused more than 100 boys at St. John's. (Milwaukee Journal Sentinel,
March 26, 2006). In 1973 a deaf boy reported to police abuse by Murphy, but charges were dropped. In 1974 a group of men accusing Murphy of having molested them as boys filed complaints. These did not result in charges, due to the statute of limitations. The men organized public protests against against Murphy. Archbishop Cousins acknowledged the diocese had been aware of "the problem" for years. In May 1974 Murphy was reassigned to "other duties" at St. John's, and left in Sept., after a news report about the allegations. (Milwaukee Journal Sentinel,
March 27, 2006)

WI

Assistant Director 1950-1963, then Director 1963-1974. He is listed also as Principal 1967-1974.

St. John's was a residential school, with 84-161 children.

1974

Superior Bishop was George Albert Hammes (1960-June 1985), followed by Raphael Michael Fliss (June 1985-June 2007)

Milwaukee Bishop beginning in 1977 was Rembert George Weakland (Sept. 1977-May 2002)

1994

St. Anne's

Boulder Junction
WI
The Directories list Rev. Irving Meyett as the only priest at St. Anne's 1974-1989. The Directories list Rev. William G. Horath as the only priest at St. Anne's 1989-1994.
Murphy assisted at St. Anne's and other parishes in the Superior diocese, per news reports (Milwaukee Journal Sentinel,
March 27, 2006.) The Directories index him only as "Other Assignment" 1974-1983, and list him in the Milwaukee diocesan pages under "Other Assignments" as at St. Anne's in Boulder Junction. However, the Superior diocesan pages do not ever list Murphy as at St. Anne's. The Directories index him as "On Duty Outside the Archdiocese" 1983-1993, and list him in the Milwaukee diocesan pages under "On Duty Outside the Archdiocese" as at St. Anne's in Boulder Junction. Still, he is not listed under St. Anne's in the Superior diocesan pages.
1974
1994
St. Mary
Sayner
WI

St. Mary's was a mission of St. Anne's.

1974
1994
St. Rita
Presque Isle
WI

St. Rita's was a mission of St. Anne's.

1993
1998
Retired
Boulder Junction
WI

Murphy's address in the Milwaukee diocesan pages is listed as Box 110 Boulder Junction WI for the year 1993-1994. This was the address for St. Anne's. Beyond that he is listed as at Box 50 Boulder Junction.

Murphy died Aug. 21, 1998

Source: Official Catholic Directory (New York: Kenedy & Sons, 1951-1999)
Selected Archdiocesan Documents
Bates numbers are all preceded by the notation ARCH_MARSHALL.
| | | | | |
| --- | --- | --- | --- | --- |
| Description | From | To | Date | Bates Number |
| • Letter informing Murphy of another "serious allegation" from "several years ago"; Sklba says he notified Bishop Fliss of the Superior diocese, who will bring the allegation "to the notice of the pastor of St. Anne in Boulder Junction"; Sklba wants "your own rights ... properly safeguarded" | Auxiliary Bishop Richard J. Sklba | Rev. Lawrence C. Murphy | 1993-10-28 | 00434 |
| • Archdiocesan summary of Murphy cases and measures by Milwaukee archdiocese; notes 1974 publicity and removal, unsupervised contact with children, and 11/24/93 meeting including Weakland | | | approximately 1993-12-01 with handwritten note dated 1993-12-05 | 00410 |
| • Report and recommendations regarding Rev. Lawrence Murphy | Kathy Lyn Walter, M.S.W. | | 1993-12-12 | 00332-00352 & 00430 |
| • Letter billing the archdiocese for the interviews that Walter conducted with Murphy before writing her 12/12/93 report | Walter | Elizabeth C. Piasecki | 1993-12-20 | 00449 |
| • Letter stating that Straub doesn't feel that Rev. Irving Meyett, a retired Superior priest, "was able to monitor the continuing association of ... Murphy with the community of the hearing impaired"; Meyett objected to the restrictions on Murphy, and "we will have to seek another avenue to monitor" him | Rev. Carroll C. Straub, Milwaukee Vicar for Clergy | Very Rev. Philip J. Heslin, Moderator of the Curia in the Superior diocese | 1995-05-16 | 00121 |
| • Eulogy at Murphy's funeral | Sklba | | 1998-08-28 | 00500-00501 |
| • Letter explaining that Murphy's family had defied their agreement with the archdiocese to hold Murphy's funeral Mass privately; as a result, members of the public heard Sklba's eulogy stating that "some shadows had been cast on [Murphy's] memory"; but "we are still hoping we can avoid undue publicity that would be negative toward the church" | Archbishop Renbert G. Weakland | Cardinal Tarcisio Bertone | 1998-09-02 | 00116 |
| • Letter enclosing Weakland's letter to Bertone and warning that Murphy's family might protest to the nunciature, presumably about Weakland's attempt to keep Murphy's funeral quiet | Weakland | then-Archbishop Agostino Cacciavillan, Apostolic Pro-Nuncio | 1998-09-02 | 00115 |
| • Letter telling a nun that Weakland had planned with the Vatican "at great length" to keep Murphy's funeral "as quiet as possible" as a way of avoiding press and "preserving his good name" | Weakland | [name of nun redacted] | 1998-10-16 | 00174 |
| • History in archdiocesan files of St. John's School for the Deaf, mentioning allegations that Murphy molested about 200 boys there | Unknown | | No Date | 00178-00179 |
| • Redacted archdiocesan list of at least 19 "known victims" of Murphy at St. John's | | | No Date | 00456 |
Abuse Reports in Milwaukee Archdiocesan Files
Note: The following summaries were written by BishopAccountability.org to make it easier to access the archdiocesan documents that are linked below. In our summaries, the word "abuse" refers to allegations of abuse. The documents have been redacted by the Milwaukee archdiocese. We have redacted several names that were missed in the redaction process, as well as several identifying details.
Account by male survivor of genital touching on multiple occasions in 1964-70; abuse also occurred during confession and on trips to Washington DC and NYC.
1974-05-15
00407
Proposal for settlement discussions regarding Murphy's abuse of three male clients of attorney Barry M. Cymerman.
1996-11-07
00485 [additional redactions by BishopAccountability.org]
Account by male survivor of abuse on two occasions in 1962 when he was age 11; the boy, in the class of 1972, was sent to sleep in Murphy's bed; on the first occasion Murphy forced the boy to masturbate him, and on the second he struck the boy's penis with a belt.
No Date
00411
Long letter to Murphy by male survivor, cc'ing Weakland and Pope John Paul II; includes much information about Murphy's sharing of victims with a molester at St. Rita's School for the Deaf, about the effects of the abuse, and about Murphy's use of confession; also states that he told Weakland about the abuse.
1995-02-12
00146-00152
Memo by Liz Piasecki describing 9/6/95 meeting with male survivor, who described Murphy's use of confession to arrange first genital touching; abuse began at age 12 or 13 in 1962 and was done repeatedly for a year or two.
1995-10-04
00579
Letter to a Murphy survivor from a person who is assembling a list of Murphy victims; speculates that "Murphy did something" to the parents, and states that another person who is compiling a list has heard that probably every boy who attended St. John's during Murphy's tenure was molested by him.
1993-11-07
00454
Archdiocesan intake report to Weakland, Sklba, et al. about phone call from mother of male survivor who was abused by Murphy 1971-74 at age 6 to 9; mother also alleged abuse by lay staff members at St. John's and physical abuse by priest whose name is redacted; requested reimbursement of tuition.
2000-03-20
00566-00567
Archdiocesan intake report to Sklba et al. about meeting with male survivor abused by Murphy 1964-66 at age 14 to 16; survivor tried to start a survivor petition but was threatened; told sister in 1970 who told father who wanted to kill Murphy.
2002-05-20
00238-00239 [additional redactions by BishopAccountability.org]
Archdiocesan intake report to Dolan, Sklba, et al. about three instances of abuse of male survivor in 1969-70 at age 10; first abuse during drive to K of C award dinner; also discusses performance of Rev. Zerkel and Sr. Roberta and abuse by Tom Tannehill, later arrested for abuse at school for deaf in IN.
2006-04-18
00580-00581
Archdiocesan intake report to Dolan, Sklba, et al. about repeated abuse of male survivor in 1953-55 at age 13 to 15; survivor also witnessed Murphy going "from bed to bed" to masturbate the boys; the survivor was molested by Murphy at St. John's and also at the Boy Scout's Camp Owalnski; Murphy used family connections and weddings to continue the abuse through age 25; survivor also discusses his long silence, the effect on his marriage, and physical abuse by nuns, especially Sr. Ethel Strunk.
2006-04-22
00577-00578 [additional redactions by BishopAccountability.org]
Archdiocesan intake report to Dolan, Sklba, et al. about repeated abuse of male survivor in 1968-73 at age 7 to 12 by Murphy and Tom Tannehill, who "broke him in" for Murphy; the report provides a vivid description of sexual behavior at the school, the effects on the survivor's faith and marriage, and the his struggles to learn a "new normal" after his parents removed him in 1973 when news of Murphy broke.
2006-04-22
00575-00576
Archdiocesan intake report to Dolan, Sklba, et al. about physical and sexual abuse of survivor in 1963-72 at age 7 to 16, including abuse by Tannehill and Murphy and Murphy's use of the confessional to deny the abuse; mentions Tannehill's stating that he had been abuse by Murphy; discusses the effects on survivor's faith and protectiveness of his deaf child and his unwillingness to inform his immediate family members.
2006-05-04
00585-00586
Archdiocesan intake report to Dolan, Sklba, et al. about repeated sexual abuse of a female survivor in 1970-74 at age 4 to 8; Murphy would accompany her to the bathroom and stare at her while she went to the bathroom, and would touch her genitals through her clothes while holding her on his lap; her family had moved from Minnesota so that she and her two older deaf brothers could attend the school; her brothers had also been abused by Murphy and had abused their sister in turn, during the time Murphy was also abusing her; also discusses her distant relationship with her parents and her siblings who are not deaf, her reconciliation with her brothers, and her happy marriage.
2006-07-10
00583-00584
Archdiocesan intake report to Dolan, Sklba, et al. about several instances of sexual abuse in 1967-69 at age 9 to 13; the male survivor was escorted to Murphy's office by one of the nuns; Murphy asked him to undress and then played with himself while staring at the naked boy; Murphy also used confession to obtain information about sexual behavior among the students, and angrily instructed the survivor not to go to the other priest for confession; also discusses sexual abuse by Tom Tannehill and physical abuse by Sr. Claude; an article in the Journal Sentinel helped the survivor to come forward.
2006-11-29
00569-00570
Archdiocesan intake report to Dolan, Sklba, et al. about three instances of a male survivor's being molested by Murphy in his dorm bed, and of being beaten by Murphy when the survivor tried to warn the boy in the next bed; the survivor tried "whenever possible to go to another priest for confession," because Murphy would ask him sexual questions in confession; until recently, the survivor thought "he was the only one"
2007-03-07
00571-00572
Archdiocesan intake report to Dolan, Sklba, et al. about five instances of abuse by Murphy in 1970-71 at age 14 to 15; survivor was not a boarder because parents had moved to Milwaukee to be near the school; abuse occurred at Murphy's cabin in the Superior diocese and at a carnival grounds in Milwaukee.
2007-05-04
00563
Archdiocesan intake report to Dolan, Sklba, et al. about male survivor who was molested 30 to 40 times by Murphy in 1963-69 at age 13 to 18. "If he wasn't molested, th[e]n he would witness others being molested by Murphy in their beds. [Redacted] said the other boys would call him the owl because he wouldn't sleep well during the night." Murphy would beat him if he resisted, and humiliated the survivor in front of his classmates after his parents visited Murphy to discuss their son's bruises; at his Superior cabin, Murphy got the boy drunk and performed oral sex on him; also abused during trip to DC and NYC; also discusses abuse by others whose names are redacted, including being forced to perform oral sex on someone.
2007-05-14
00557-00558
Archdiocesan intake report to Dolan, Sklba, et al. about one instance of sexual abuse in 1965 at age 13; the male survivor often saw Murphy abusing classmates in the dorm, and classmates would touch the survivor sexually and had sex with each other regularly; the survivor told a Fr. Walsh in Chicago about the abuse by Murphy, and Walsh said "it was not okay and he would report it." Students threatened to beat the survivor up if he'd told on Murphy; when he told his parents, they took him out of St. John's; also discusses the profound effects; his wife accompanied him to make the report, and remembers students talking about Murphy molesting the boys; "She also stated that families were meeting to talk about Murphy until he was finally dismissed from the school."
2007-06-11
00555-00556
Archdiocesan intake report to Dolan, Sklba, et al. about innumerable instances of abuse by Murphy and Tom Tannehill in 1968-73 at age 7 to 10; during the male survivor's first night at the school, he was molested by Tannehill; Murphy would sometimes perform oral sex on him and force him to perform oral sex; he was either abused or witnessed the abuse of another boy every day; the boy was the only deaf child to hearing parents who were wealthy and invited Murphy on vacations, during which he would abuse the boy; Murphy would misinterpret the boy's signing when he tried to tell his parents what Murphy was doing; the boy also experienced physical abuse at St. John's, and suffered severe damage from all the abuse.
2007-06-21
00559-00560
Archdiocesan intake report to Dolan, Sklba, Callahan, et al. about being beaten naked in a cloak room with the buckle end of a belt by Murphy for wetting the bed; this occurred in 1957 at age 8; also described one instance of sexual abuse by a fellow student, using Murphy's sexual behavior to excuse his own, and another instance of sexual mockery led by Murphy; the survivor was the only deaf child of immigrants who did not speak English; it appears that the survivor's high school tuition at St. John's was paid twice, once by his employer, and once by the survivor, who didn't know the employer was also paying.
2008-07-09
00561-00562 [additional redactions by BishopAccountability.org]
Archdiocesan intake report to Dolan, Sklba, et al. about two instances of abuse by Murphy in 1970 and 1973 at age 10 and 13, the first when Murphy got him out of bed and touched his genitals in the bathroom, and the second when Murphy told the survivor and another altar boy to strip after Mass and touched their genitals; between these two occurrences, the survivor was regularly abused by Tom Tannehill, who would use the threat of demerits to toch him sexually and perform oral sex on him; after the second abuse by Murphy, the survivor began to feign illness to get out of altar boy duty, and this was noticed by James Heidenthal, a staff person; the survivor told Heidenthal about Tannehill and then Murphy, and Heidenthal told his parents, and helped other boys; "he drove many of them home to their parents.
2007-10-26
00553-00554
Archdiocesan intake report to Dolan, Sklba, Callahan, et al. about one incident of abuse by Murphy in the dorm in 1951 at age 5; also reports "terrible physical abuse" by Sr. Bertand and Sr. Claude using "a variety of wooden implements," and three incidents in which a dorm supervisor punched him "to get him to perform oral sex"; also assaulted three times by Tannehill; the son of divorced hearing parents, the boy asked his mother during vacations not to send him back, but would not give a reason, so his mother returned him to the school; went at age 11 to a public deaf school, where no abuse occurred.
2008-02-22
00564-00565
Archdiocesan intake report to Dolan, Sklba, et al. about repeated sexual abuse by Murphy in 1950-57 at age 10 to 17; when the male survivor was sent by the nuns to Murphy for misbehaving, Murphy "used the back of his hand to hit my penis often and it hurt a lot"; when survivor was age 17, he attended a party and encountered Murphy, who asked him to forgive him and tried to hug him.
2008-06-10
00551-00552
Account of a woman who at age 12 saw Murphy leading boys off in the middle of the night, and as a result asked to be moved to a different school for the deaf; a handwritten note at the bottom states that Murphy doesn't remember the girl, that girls and boys were housed separately, and that Murphy denies any sexual contact in the 2nd floor infirmary.
1993-01-08
00426
Priests in a Parish: We use the following convention to show a priest's place among the clergy of a parish: 1/2 means that he is the first priest listed in the Official Catholic Directory (usually the pastor) and that there is a total of two priests at the parish. The shorthand 3/4 means that the priest is listed third on a four-priest roster. See our sample page from the Directory.

Note: The Official Catholic Directory aims to report the whereabouts of Catholic priests in the United States on January 1 of the Directory's publication year. Our working assumption is that a priest listed in the Directory for a given year was at the same assignment for part of the previous year as well. However, Kenedy & Sons will sometimes accept updates well into the year of publication. Diocesan clergy records are rarely available to correct this information. The Directory is also sometimes misleading or wrong. We have tried to create an accurate assignment record, given the source materials and their limitations. Assignment records are a work in progress and we are always improving the records that we post. Please email us with new information and corrections.
We make no representation regarding the truth of the allegations we report. We do not state or imply that individuals facing allegations are guilty of a crime or liable for civil claims. The U.S. legal system presumes that a person accused of or charged with a crime is innocent until proven guilty. Similarly, individuals who may be defendants in civil actions are presumed not to be liable for such claims unless a plaintiff proves otherwise. Admissions of guilt or liability are not typically a part of civil or private settlements.