Assignment Record – Rev. John M. Costello, s.j.
Summary of Case: Costello was accused in November 2003 of sexually abusing a 15-year-old male student in 1980 at Regis High School in the New York archdiocese, where Costello worked before ordination. The Jesuits suspended him from his job at McQuaid High School in the Rochester diocese in November 2003. (He had also been principal of Canisius High School in the Buffalo diocese 1989-1992.) He was reinstated in January 2004 because, according to the Jesuits, the accuser had recanted. Costello was transferred in 2005 to Murray-Weigel Hall, a Jesuit residence in the Bronx, where he was given the role of "minister." He was also assigned to campus ministry at Fordham Prep High School.
Ordained: 1984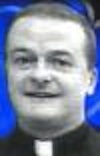 Start
Stop
Assignment
Town/Accusations
State/Country
Position
Notes
Regis High School

New York (Manhattan)

• Costello was accused in November 2003 of sexually abusing a 15-year-old male student at Regis in 1980. In an internal investigation, Jesuits clearedCostello, stating that the accuser had recanted.

NY
teacher; seminarian
Costello taught at Regis before his ordination. The precise years are not known.
1984
1985
Regis University
Toronto
Ontario, Canada
student
The 1985 Directory lists Costello at 23 Sultan St.

1985

Bishop of Rochester was Matthew Harvey Clark (1979-).

1988
McQuaid Jesuit High School
Rochester
NY
School had 828-765 students, grades 7-12, all male.

1988

New York archbishop was John Joseph O'Connor (1984-2000).

1989
Jesuit Community at Fordham University
New York
NY

1989

Buffalo bishop was Edward Dennis Head (1973-1995).

1992
Canisius High School
Buffalo
NY
principal
Number of students not indicated.

1992

Rochester diocese

1998
McQuaid Jesuit High School
Rochester
NY

School had 680-769 students.

1998

New York archdiocese

1999
Jesuit Provincial's Office
Bronx
NY
The 1999 Directory indexes Costello under "Jesuit Provincial's Office" in NYC, his address c/o the Office. He is not indexed at McQuaid Jesuit High School in Rochester, but he is still listed there in the Rochester diocesan pages.

1999

Rochester diocese

2005
McQuaid Jesuit High School
Rochester
NY
English and religion teacher

School had 839-886 students.

Costello was suspended November 2003 for an abuse allegation and reinstated on January 7, 2004. He finished the 2003-2004 school year, and then apparently one more year, before he was transferred to the infirmary for elderly and sick Jesuits in New York City, where he was the minister.

Bishop Kearney High School
Rochester
NY
sacramental minister
Position mentioned in 2004 article, which states that Costello had also taught here.

2005

New York archbishop was Edward Michael Egan (2000-).

2015

Murray-Weigel Hall
Bronx
NY
minister
This is the infirmary building for the Society of Jesus (Jesuits) of the New York Province.
2009
2015

Fordham Preparatory School

campus minister
Fordham Prep. had 930-950 students, all male. Per Fordham Prep's website in February 2015, Costello remains on staff.
Sources: Official Catholic Directory (New York: Kenedy & Sons, 1985-2014
• Welehan Letter to Alumni, November 7, 2003
• McQuaid Press Release , November 15, 2003
• McQuaid Suspends Faculty Member Accused of Sexual Misconduct, By Matthew Daneman, Rochester Democrat and Chronicle, November 16, 2003
• Inquiries Made into Priest's Past, Rochester Democrat and Chronicle, November 21, 2003
• Charge Names Ex-Principal of Canisius, Buffalo News, November 22, 2003
• Priest Returns to McQuaid, By Patrice Walsh, WOKR-TV, January 7, 2004
• Priest Cleared in Abuse Case, By Jeffrey Blackwell, Democrat and Chronicle, January 8, 2004
• Fordham Preparatory School, accessed February 9, 2015

Priests in a Parish: We use the following convention to show a priest's place among the clergy of a parish: 1/2 means that he is the first priest listed in the Official Catholic Directory (usually the pastor) and that there is a total of two priests at the parish. The shorthand 3/4 means that the priest is listed third on a four-priest roster. See our sample page from the Directory.

Note: The Official Catholic Directory aims to report the whereabouts of Catholic priests in the United States on January 1 of the Directory's publication year. Our working assumption is that a priest listed in the Directory for a given year was at the same assignment for part of the previous year as well. However, Kenedy & Sons will sometimes accept updates well into the year of publication. Diocesan clergy records are rarely available to correct this information. The Directory is also sometimes misleading or wrong. We have tried to create an accurate assignment record, given the source materials and their limitations. Assignment records are a work in progress and we are always improving the records that we post. Please email us with new information and corrections.
This assignment record collates Costello's career history as it is represented in the Official Catholic Directory with allegations as reported in the media. We make no representation regarding the truth of the allegation we report, and we remind our readers that the U.S. legal system presumes that a person accused of or charged with a crime is innocent until proven guilty. Similarly, individuals who may be defendants in civil actions are presumed not to be liable for such claims unless a plaintiff proves otherwise. Admissions of guilt or liability are not typically a part of civil or private settlements. For more information, see our posting policy.

This assignment record was last updated on February 9, 2015.