The Church Edited a Book in Support of Priest Grassi

Reportedly Distributed Among Various Judges for "Lobbying"
Clarín
December 17, 2011
[Translated into English by BishopAccountability.org. Click below to see original article in Spanish.]
http://www.bishopaccountability.org/Argentina/news/2011_12_17_Clarin_La_Iglesia_edito.pdf
See original article.
'Studies of the Grassi Case.'This is the name of the book in which the Church holds to the presumed innocence of the priest Julio César Grassi, sentenced to 15 years in prison for sexual abuse of a minor, but who remains a free man. The book's content was produced by a known criminal law scholar, hired in 2010 to carry out the study by the then-President of the Episcopal Conference of Argentina, Cardinal Jorge Bergoglio, according to [the news agency] DyN.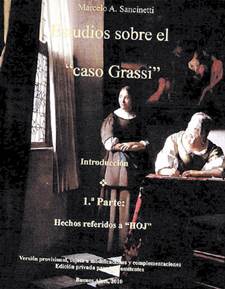 "The book carries little importance. It was very crude contract work that says nothing that Grassi himself hasn't already declared on television. It was sent to all the judicial offices of the judges who have yet to make determinations in the case, with the clear intention of lobbying and influencing them," the lawyer supporting the plaintiffs' case, Juan Pablo Gallego, told Clarín.

According to Gallego, the Episcopal Conference of Argentina last year commissioned the jurist Marcelo Sancinetti to do the research. The work resulted in two volumes, each relating to an alleged victim of the abusive priest.

Besides revealing the book's existence, Gallego claimed that copies of it landed on the desks of judges of the Supreme Court of Buenos Aires, "evidently to exert pressure on the verdict regarding the priest's sentence (the court is in the process of resolving an appeal)."
"It is a very erudite book that indicates they are unwilling to accept any verdict of the secular state and that [they believe] the judge is the most biased since the return of democracy. The pressures that have been, and continue to be, exerted on the justice system speak to a power whose reach we can't fully comprehend," said Gallego.

The inside cover of one of the volumes notes: "The Episcopal Conference of Argentina entrusted the fulfillment of a judgment to Professor Sancinetti, consisting of a study of the procedure by which the Reverend Father Julio César Grassi was criminally prosecuted, judged and convicted of two instances of sexual abuse (related to one complainant) and acquitted by many others (related to two other complainants)."

In February, the Attorney General of the Supreme Court of Buenos Aires, María del Carmen Falbo, issued a statement in which she advised the provincial high court to convict Grassi for all crimes for which he had been charged, and not only for those for which he was given a 15-year prison sentence.

The Supreme Court will make a pronouncement, but with no clear deadline.